Pay Off for 2017
Naugle Speedway pays back 100%
Admission Prices
Spectators - $5.00
Kids under 5 - $3.00
Pit Pass
Age 11 and up (Non Driver) - $12.00
Age 10 and under (Non Driver) $6.00
Pee Wee and First Year Rookie Kart Registration + Pit Pass $16.00
Regulart Kart Registration + Pit Pass - $24.00
Briggs & Clone Pay Off Schedule
Pay Off is based on a $12.00 per kart registration fee.
NOTE:
We will pay a purse for any 4 karts listed or unlisted that show up on race day. Kart count for ALL classes based on the number of karts signed into a class.
The maximum number of karts in a feature is 12.
B mains will be run if a class consists of 14 or more karts.
A kart must complete 1 lap of a feature to be eligible for payoff.
Pee wee & 1st Year Rookie - .425 (purple restrictor) class, pay only a pit pass plus a $4.00 registration fee and the first 5 positions receive trophies.
Unlimited Open Pay Off for 2016
Unlimited Open Kart Registration + Pit Pass - $42.00
Pay Off is based on a $30.00 per kart registration fee.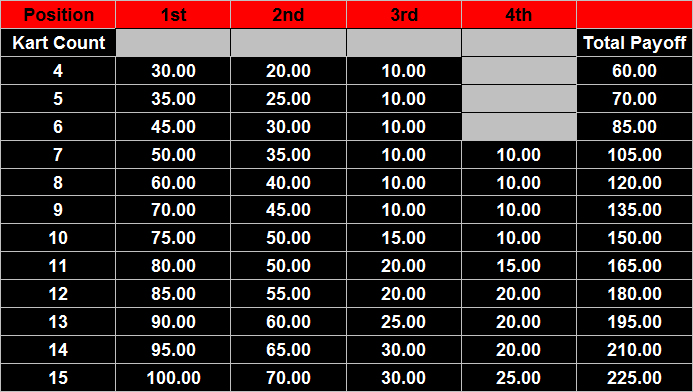 All pages Copyright © 2017 by Naugle Speedway & Designs by Dave
All photos & content are the property of Naugle Speedway and are intended for personal use only.
They may not be reprinted, reposted or distributed without permission.