Click on the map below to get specific driving directions.
Directions from Pittsburgh
From Pittsburgh follow the Parkway W (Rt. 279) to Pittsburgh Intl Airport / Moon Twp Business split Follow the Moon Twp Business through the traffic light at Beers School Road past the cargo and freight buildings to the Flaugherty Run Road exit.
Make a right off the exit you'll pass Unger's RVs on the left go through the cross roads You will pass Charlie Brownes parking on the left Immediately past Charlie Brownes turn left onto Spring Run Road Extension Follow Spring Run Road Extension for approx 2 miles You will pass a small industrial park on the left Spring Run Road Extension makes a square right turn you stay straight Cross over route 60 and pass the Airport self Storage on the left after the 3rd house on the left watch for a smaller township road called Picken Road Follow Picken Road approx 1/2 mile Take the first left after house #238
Directions from Ohio & West
From Ohio and west follow route 60 Take the Moon Twp Business split to the Flaugherty Run Road exit Make a left at the stop sign, pass Unger's RVs and the rest of the instructions are the same as those given above If you have any questions Please call Ed Naugle at 724/869-3359 On Race days call 724/378-4059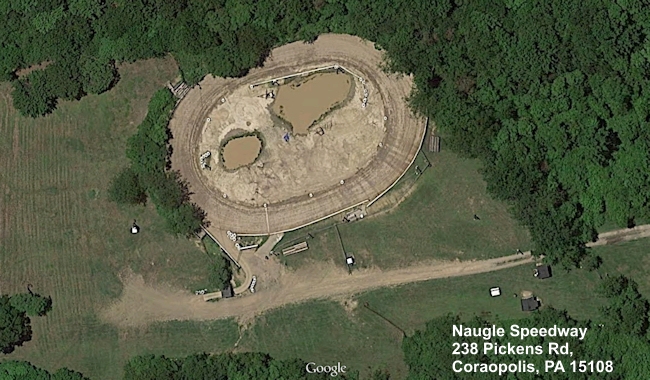 All pages Copyright © 2017 by Naugle Speedway & Designs by Dave
All photos & content are the property of Naugle Speedway and are intended for personal use only.
They may not be reprinted, reposted or distributed without permission.